I visited HOBOKEN Maker Bar!
It is located at HOBOKEN, across the Hudson river from Manhattan.
It was a industrial area, but now it's becoming town.
I walk for 10 minutes from HOBOKEN station.
It's not so difficult to go.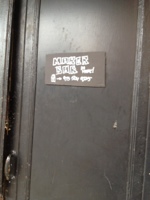 This is door of HOBOKEN Maker Bar.
I like this kinds of door, looks heavy!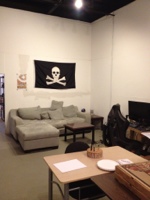 Big sofa and any other furniture makes me at home.
In fact, It's past only few months yet.
They were all new. So I could see the case as soon as established.
They build there work-tables, chairs.
And they also paint wall!
There were many kinds of equipment for… I can't sure…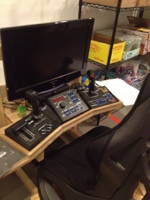 It's Game Machine Ha ha haha…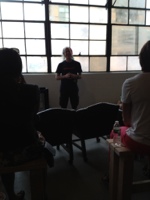 When I visited to there, that was a talk event.
The Guest was …. MITCH ALTMAN!!
he is a popular Maker or Hacker known by many makers.
I have seen him at Maker Meeting in Japan, few years ago.
I'm glad to meet him very much!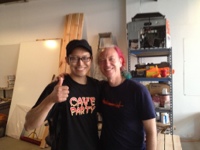 Members of HMB ask many question about manage their Hacker Space.
Those were good questions for me too.
I was so sad to that I can't understand their conversation clearly due to my awkward English….