I visited a Spanish school in Ecuador "Andean Global Studies" (AGS).
In Ecuador, They used Spanish usually.
By the way, there are under 150 Japanese in Ecuador now.
That was so stylish based white color.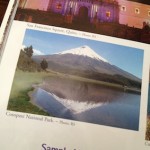 I could see a photo of mountain looks like Mt.Fuji in Japan very well.
That is a mountain in Ecuador called Cotopaxi.
I became taken soon.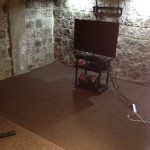 There are Home-theater in basement!
Some pictures on the wall.
These are painted by friend of AGS's president.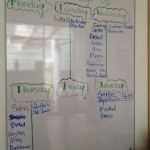 This is a white board for reserve some event opened in AGS.
All student write name and join their events.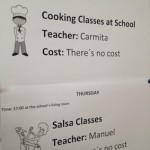 Every Wednesday teacher Carmita open cooking class.
And teacher Manuel open class of Salsa.
I wanna join!
When I introduce about FABLAB to President of AGS, Agustin, he interested in that very much.
Why there are no FABLAB in Ecuador even if exist in Colombia and Peru…
Thank you for all teachers!
Especially for Agustin!!